SMART EMERGENCY CALL BOX-MODEL-GSM-ECB SERVER RACK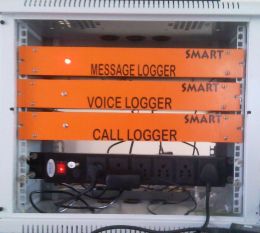 SMART EMERGENCY CALL BOX-MODEL-GSM-ECB SERVER RACK
1) The ECB-VOIP CENTRAL SERVER unit consists of 19" RACK SYSTEM.
2) VOIP GATEWAY.
3) CALL RECORDER INPUT.
4) DESK TOP COMPUTER WITH OPERATOR CONSOLE SOFTWARE.
5) PRINTER.
6) DESK TOP TELEPHONES FOR OPERATOR.
7) GSM LINE INPUT.
8) CALL RECORDER INPUT.
9) FRONT OFFICE SOFTWARE.
10) CALLER ID WITH LOCATION DISPLAY ON COMPUTER.
11) Ability to manage multiple incoming calls (UPTO 4) from different ECBs concurrently.
12) Voice Recording of all calls with TIME STAMP AND ECB ID.
13) Facility to play back any recorded audio.
14) Automatic and periodic checking of connectivity of CS with all ECBs.
15) Reports/Logs (SMS, MISSED, RECEIVED WITH DATE / TIME STAMP).
.
.
.