SMART INDUSTRIAL WEATHERPROOF VOIP TELEPHONE-MODEL-WMHS-IIIWP-VOIP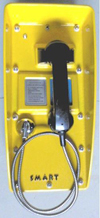 SMART WEATHER PROOF INDUSTRIAL TELEPHONE-MODEL-WMHS-III WP-VOIP
1) These units are externally powered and are connected to IP TELEPHONE LINE directly.
2) Waterproof non tactile keypad.
3) Magnetic reed hook-switch reduces moving parts subject to wear.
4) AL ALLOY CASTING BODY with integrated canopy & powder coated construction.
5) Heavy industrial ABS handset & SS cord.
6) Noise-canceling type microphone.
7) Environment Protected.
.
---